Fed-2 type-c/ type-d Custom Covering kit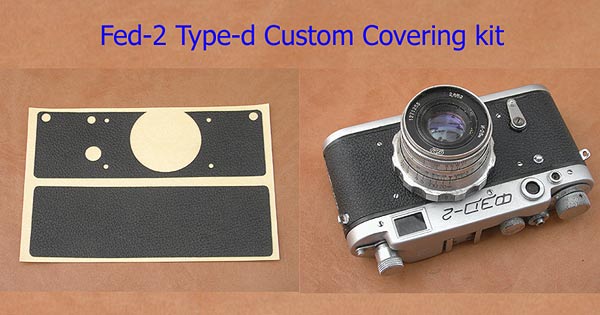 This is Custom covering kit for Fed-2 type-d.

Here is the sample photo of Yellow Snake Emboss (cowhide) surface leatherette.

Self Adhesive. Not necessary to take out any parts from the camera except original Leatherette.


You need to remove the original vulcanite when you install this kit.
Please Click here to find vulcanite removal guide page.

Installation

Please click here for 4040/pebble
Please click here for other leather products.

---

Between Type-c and Type-d, there is a slight difference and NOT compatible.

If the gap is 2.5mm(0.1") to 2.8mm(0.12"), that is Type-d (as below)





If the gap is 1.7mm(0.068") to 2mm(0.08"), that is Type-c (as below)





Please choose the suitable one when you purchase the kit.


---
see our material list (https://goo.gl/pBaHcM)
Shipping fee

Asia : $5.50 US (registered airmail)
Europe Oceania Middle East : $6.30 US (registered airmail)
USA : $6.30 US (registered airmail)
South America & Africa : $6.50 US (registered airmail)



Fed-2 type-d Custom Covering
14 USD




[ Back ]