Zorki-4/4K Custom covering kit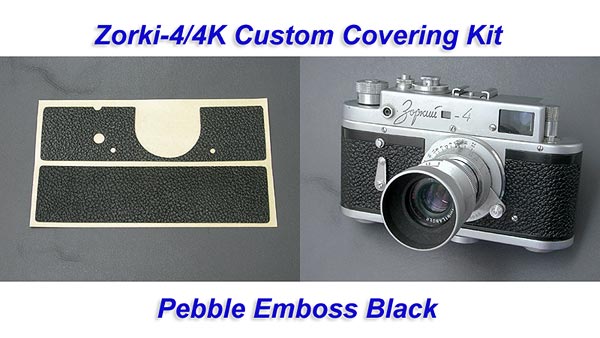 This is the Custom covering kit for replace Zorki-4 and Zorki-4K Leatherette.
This is an example photo of Zorki-4 in Pebble emboss.


This kit fit to Zorki-4K (Lever Wind Zorki-4) and one type of Zorki-4 (type-6?)
There are several types of Zorki-4 and this kit fits to
1. The type which does NOT have strap lugs on the camera body.
2. Which has leatherette on the surface. (It does NOT fit to the type which has vulcanite on its surface.)





Please make sure if this kit fit to your Zorki-4.

Camera and Lens are NOT included in this kit.


---

Please refer the install guide here, or find the URL below.
file:///H:/aki-asahi.com/store/html/zorki-4K/install/01_e.html

---
see our material list (https://goo.gl/pBaHcM)

Shipping fee

Asia : $5.50 US (registered airmail)
Europe Oceania Middle East : $6.30 US (registered airmail)
USA : $6.30 US (registered airmail)
South America & Africa : $6.50 US (registered airmail)



Zorki-4/4K Custom covering kit
14 USD


This covering kit is made with special shape cutter (metal mold) and pressing machine





[ Back ]