Zorki-1c Custom Covering kit




This is Custom covering kit for Zorki-1c.

Here is a sample photo of Pebble Emboss surface leatherette.

This material is Composite leather.

Self Adhesive. Not necessary to take out any parts from the camera except original Leatherette.


You need to remove the original vulcanite when you install this kit.
Please Click here to find vulcanite removal guide page.
---
There are 4 types of Zorki-1, this kit fit to only one type, Zorki-1c.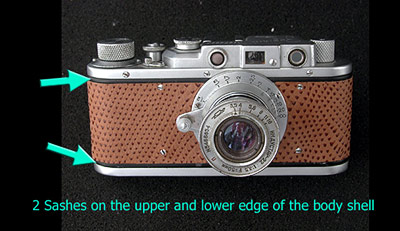 This kit fits to the type which has 2 sashes on the upper and lower edge of the body shell.

---
see our material list (https://goo.gl/pBaHcM)


---
Shipping fee

Asia : $5.50 US (registered airmail)
Europe Oceania Middle East : $6.30 US (registered airmail)
USA : $6.30 US (registered airmail)
South America & Africa : $6.50 US (registered airmail)



Zorki-1c Custom Covering
14 USD




[ Back ]