Canon7 Custom covering kit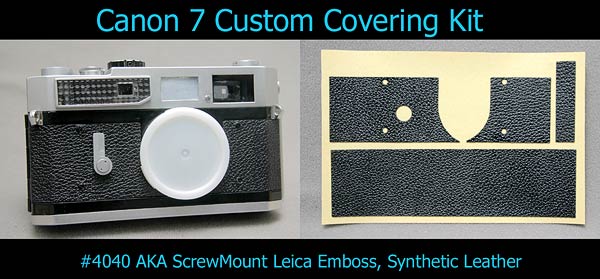 This is the custom leather kit for replace Canon 7's covering.
You can refresh the covering. You can give your Canon7 for the new life.

Self adhesive, when you apply to your camera, you do not need glue.
This kit is not the genuine parts supplied from Canon..

ƒsample photo"


Self Adhesive. Not necessary to take out any parts from the camera except original Leatherette.

---
see our material list (https://goo.gl/pBaHcM)

Please refer the install guide here, or find the URL below.
http://aki-asahi.com/store/html/Canon-7/install/001_e.html

Shipping fee

Asia : $5.50 US (registered airmail)
Europe Oceania Middle East : $6.30 US (registered airmail)
USA : $6.30 US (registered airmail)
South America & Africa : $6.50 US (registered airmail)




Canon7 Custom covering kit
15 USD

[ Back ]