Ricoh Auto Half S, SE rear door light seals replace kit

Ricoh Auto Half E2 rear door light seals replace kit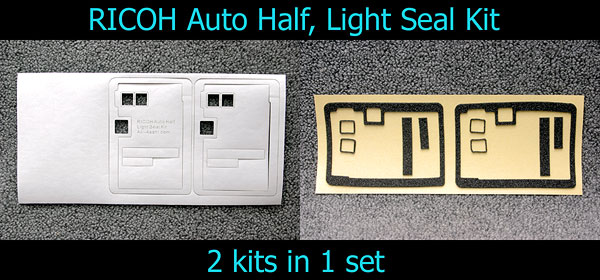 Ricoh Auto Half S, SE backdoor Light Seals foam (backdoor gasket sponge) replace kit.

When the original light seals become old, the camera occurs light leaks and backdoor rattling.
It is time to replace the new Light seals, you do not have to worry about those problems any more.

This kit contains 2 Light seals (as above image) and Bamboo stick (includes in this kit) to remove the old light seals foam.



Light seals foam is self adhesive and cut as backdoor ditch's shape.
Install this kit is not very difficult,
2 foam kits are included, you do not have to worry if you waste one.
If you are not so confident, you can use 1 kit for practice, you can install perfectly for the 2nd time.

Please Click HERE to find quick guide page to install this kit. (http://aki-asahi.com/store/html/auto-half/light-seal/install_e.html)

Shipping fee

Asia : $5.50 US (registered airmail)
Europe Oceania Middle East : $6.30 US (registered airmail)
USA : $6.30 US (registered airmail)
South America & Africa : $6.50 US (registered airmail)



Ricoh Auto Half S, SE light seals replace kit


$7.00 USD

---


Ricoh Auto Half E2 light seals replace kit

$7.00 USD

[ Back ]