Canon F-1 Custom Covering kit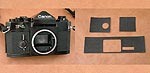 This is Custom covering kit for Canon F-1 (NOT genuine parts supplied by Canon).

Here is the sample photo of 4040 Screwmount Leica emboss surface leatherette.
---

Self Adhesive. Not necessary to take out any parts from the camera except original Leatherette.


---
see our material list (https://goo.gl/pBaHcM)


---
Installation


Click Here to find a installation guide page.
---
No camera is included in this kit. The Price is per 1 kit.
This kit does not fit to New F-1.

Shipping fee

Asia : $5.50 US (registered airmail)
Europe Oceania Middle East : $6.30 US (registered airmail)
USA : $6.30 US (registered airmail)
South America & Africa : $6.50 US (registered airmail)



Canon F-1 Custom Covering
15 USD
This covering kit is made with special shape cutter (metal mold) and pressing machine





[ Back ]