Pentax 67 Light Seals replace kit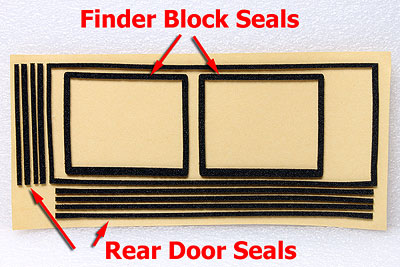 This is Pentax 67 Rear door Light Seals foam (gasket sponge) replace kit.
(This item is "custom kit", NOT Pentax brand-name parts.)

This kit does NOT fits to Pentax 67 II. Only Fits to Pentax 67.

When the original light seals become old, it occurs light leaks and backdoor rattling.
It is time to replace the new Light seals, you do not have to worry about those problems any more.

This seal kit covers Pentax 67 camera body Light seals as below.





You could install the foam on the prism finder.

Camera body is NOT included in this item.

Those are already cut, Ready to Use, You do not need to cut by yourself,

You can save time, this is no hassle and these are accurate size for Pentax 67 seals.

Install this kit is not very difficult,
2 foam kits are included, you do not have to worry if you waste one.
If you are not so confident, you can use 1 kits for practice, you can install perfectly for the second time.

---

Installation guide video.



Video link to Youtube.

Shipping fee

Asia : $5.50 US (registered airmail)
Europe Oceania Middle East : $6.30 US (registered airmail)
USA : $6.30 US (registered airmail)
South America & Africa : $6.50 US (registered airmail)




Pentax 67 Light Seals replace kit
12 USD

[ Back ]