Leica IIIg, Ig Custom Covering Kit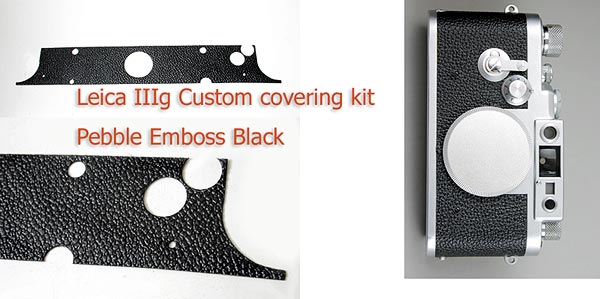 This is Custom covering kit for Leica IIIg. (NOT genuine parts supplied by Leitz).
Synthetic Leather made.


Self Adhesive and you do not need glue when you install this kit.
Not necessary to take out any parts from the camera except original vulcanite.


---
This is #4008 Leatherette sample.

Click HERE to see the supersized photo.

How to Install


Please cut the leather between Selftimer and slow dial as above photo, then

Please click here for installation page or find the link below.




#4008 Leatherette is no longer available, please choose Black Crinkled Emboss instead (Natural hard Leather, similar to 4008)


The price is $24 USD (1 kit)

No Leica camera is included in this kit.

Shipping fee

Asia : $5.50 US (registered airmail)
Europe Oceania Middle East : $6.30 US (registered airmail)
USA : $6.30 US (registered airmail)
South America & Africa : $6.50 US (registered airmail)


Leica IIIg Custom Covering Kit

$24 USD



Leica Ig Custom Covering Kit

$24 USD



[ Back ]