Panasonic GF-1 Leather Snap Case

This is NOT the Original case from Panasonic.

We have 2 kinds of GF-1 leather cases.

"Hand dyed case"($108 USD) and "Color Leather case"($98 USD).

It is made to order case, allow us 1 week to 2 weeks handling time.


---

1. Hand Dyed Case $108 US

Dark Tan / Light Tan, 2 kinds are available.
Dyed by aki-asahi, on the high quality craft leather (100% vegitable tanned leather), antique appearance.
Pig suede inner covers GF-1 softly.


<Dark Tan sample photos>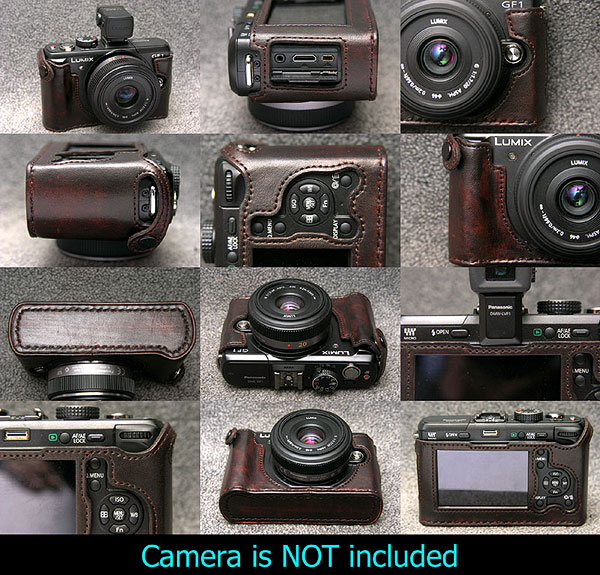 Click above image for larger sized photos.


<Light Tan sample photos>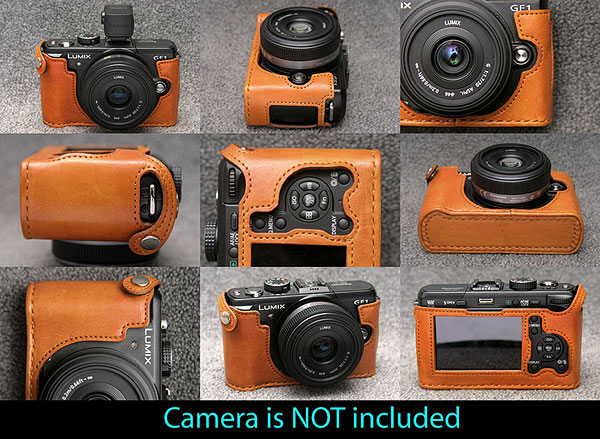 Click above image for larger sized photos.


---

2DGF-1 Color leather snap case $98 US

Sample photo links

¡Flat Black

Red Stitching sample

White Stitching sample

Black Stitching sample

Green Stitching sample

You could choose stitch color form White, Black, Red, Yellow, Green, Dark Brown, Light Blue.

Other sample photos, please click here to see.


---

Thicness : 2.2mm - 2.4mm,
Weight : Approximately 35 grams

Black Pig Suede inner skin covers GF-1 softly, never hurt or scratch GF-1 surface.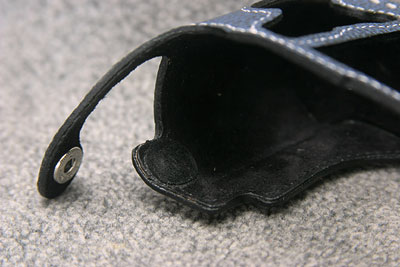 You could use LVF1 with this case.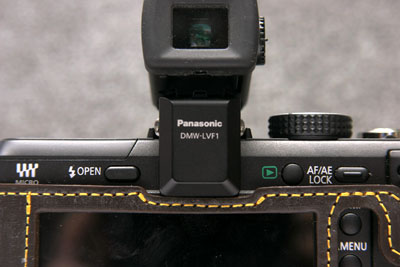 It has USB opening and you could connect USB line with wearing case.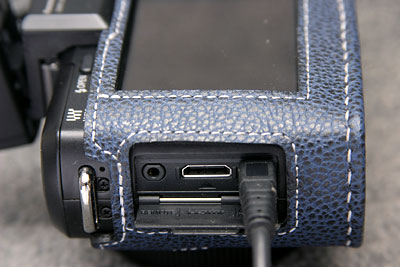 It does not have Battery & Memory card door opening, you need unwear the case when you replace battery and memory card.

It does not have Tripod Socket hole, either. Since the Bottom thickness is 6mm, tripod screw is too short, never reach to the camera body.




Please use this case with strap as shown above, then the case will not slip off from the camera..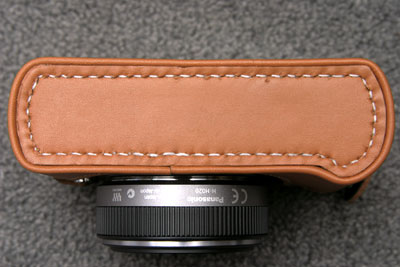 Beautiful Stitching lines, with sewing machine and hand sewing.


Please use mink oil or relative leathere care products sometimes (not often).





Silver and Black, 3 kinds of Snaps are available.



Panasonic GF-1 Snap Case Hand Dye


$108 US

Panasonic GF-1 Color Leather snap case


$98 US

---


Panasonic GF-1Screen Guard Film
5x Clear Screen Guardr Film
+ Cleaning Wiper Cloth + Wiper Card


$4.50 US
---

These cases are made by Aki-Asahi, Made in Japan.
Leather materials are from Himeji Japan.