Canon Power Shot S120 Custom Leather Grip
This item fits to Canon Power Shot S120, does not fit to any other camera.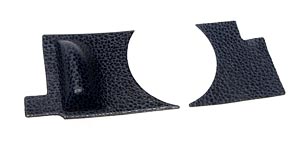 Leather formed grip and leatherette as above image.
Rubber is inside of the grip. It is rather hard touch but softer than plastic or wood grip.




You can grip the cameral tightly with this grip.


---

<Sample photos>
click the image and see larger sized photos.



Black Crinkled emboss
(cowhide)



Navy Blue Crinkled emboss
(cowhide)


---


Ocher Lizard emboss
(cowhide)

---

Please see installation guide video.



If you can not watch above video, please click here for Youtube link.


---
The price is $25 USD + $4 US Registered Airmail shipping fee.
Handling time, 3 or 4 days.


Canon Power Shot S120 Custom Leather Grip
$25 USD

Canon Powershot S120
Screen Guard Film
5x Clear Screen Guardr Film
+ Cleaning Wiper Cloth + Wiper Card


$4.50 USD